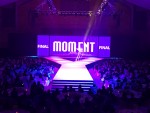 2017 Hong Kong Fur Gala
A spectacular fur fashion extravaganza where Hong Kong furriers demonstrate their design flair and meticulous workmanship.
Press Release
For Immediate Release 16 February, 2017
Hong Kong Fur Gala 2017
Showcasing the Fashion-forward Glamour of Furs
(16 February 2017 - Hong Kong) The Hong Kong International Fur & Fashion Fair from 16 to 18 February, an annual highlight on the fashion calendar, kicked off today at the Hong Kong Convention and Exhibition Centre. An exceptionally all-rounded range of exhibits, ranging from raw materials to fur apparel and accessories were in the limelight. The total exhibition space reached 30,000 square meters to congregate over 210 local and overseas exhibitors from 13 countries and regions, including two national pavilions from Germany and Greece.
The grand occasion opened with the glamourous Fur Gala 2017. Hong Kong has long been regarded as one of the biggest garment exporters in the world, yet many may not realize that this cosmopolitan in South East Asia also is the largest fur exporter and fur trading centre in the world! With decades of experience and expertise in fur production and exports, Hong Kong furriers are today shipping their stylish fur accessories and apparel to over 30 countries around the world, gracing the racks of reputable stores and boutiques in traditional as well as emerging markets.
The spectacular event saw the honorable presence of Mr. Gregory So Kam-leung, GBS, JP, Secretary for Commerce and Economic Development of the HKSAR Government and Ms. Margaret Fong, Executive Director of the Hong Kong Trade Development Council as the Guests of Honor, highlighting the government's recognition for the remarkable achievements of the Hong Kong fur industry on the international stage. Meanwhile, Mr. Henry Sun, Chairman of Hong Kong Fur Federation, noted, "Hong Kong furriers' persistence in refining their technology, craftsmanship and design in all these years continuously making this city upholding its position as the fur world's most reputable trading partner. The long-term support of and collaboration between the HKSAR Government, and local and overseas business partners also established Hong Kong as a world recognized premium fur apparel label."
At the highly anticipated presentation themed as "An Evening of Moments", 15 original collections presented by local furriers impressed the audience with over a hundred unique fur looks that celebrate the romantic, passionate, glamorous and cheerful charm of the opulent material and its versatility. From the romantic and sporty silhouettes, to urban chic styles and gorgeous evening gowns, every piece complements modern femininity with its sensational visual effect and luxury texture. Amongst the newest collections, 2 men's collections were debuted this year, showcasing the urban elegance for men. Creative and innovative furriers in Hong Kong have never failed to amaze international buyers with timeless chic and fashion-forward fur fashion.
Today, "Fur by Hong Kong" has become a distinguished label around the globe, synonymous with state-of-the-art technologies, unrivalled craftsmanship and original design. Revealing the latest trends of fur fashion, Fur Gala 2017 offered the perfect platform for buyers and professionals worldwide to explore new inspiration and share latest market trend with industry players.
The dazzling night also saw the elegant presence of many celebrities, including Ms. Grace Chan, Ms. Dada Chan, Ms. Lily Ho, Ms. Rose Chan, Ms. Rebecca Zhu, Ms. Ava Liu, Ms. Bobo Li and Ms. Angelika Nikolaeva.
* * *
Fur On Spot
Inlay of oversized floral motifs and checkers patterns takes center stage in this feminine and chic collection with the mix and match of different materials and unusual cuts enlivening the designs. In the highlight are belted dresses comprised of asymmetrical bodice, jumpsuits paired with one-shouldered capelets, and ponchos with asymmetric hemlines. Organza is also seen artfully combined with sheared mink to create an interesting visual effect.

The collection, entitled 'A Symphony to Cities', captures a multi-faceted city with 2-in-1 styles where short jackets and capes are combined with vests, and standalone pieces marry two distinct concepts such as a vest with a capelet structure. Double-faced cashmere is jazzed up by geometric shapes trimmed with mink and fox, together with the grey, purple and white shades which mimic the concrete jungle.

This collection features a combination of materials including silver fox, mink, karakul and Russian Sable cleverly put together with cashmere, nappa and suede, presented in shades of Red. Long coats and capes are often found in cocoon shapes, other varieties feature straight coats or dresses with nipped-in waist highlighted by belted detail which provokes an overall modish flair.

Combining sable, long and sheared mink, these nature-inspired designs are presented in forest green shades with inlay of Chevron pattern in pastel shades. Double-breasted detail takes centre stage in the form of wrapped front robe, capes, coats with slanting front fly and capelets. Zippers are used extensively as closures, on cuffs and side seams together with leather tassels and rhinestones as decoration.

Entitled 'Winter Camouflage', this modern mink and karakul collection features sporty short jackets as well as medium and long coats in cocoon or straight cut. Camouflage pattern in white, grey, beige, and black are used boldly in the whole bodice for men's jackets and coats, while finding more fancy varieties in ladies' versions – in horizontal or diagonal stripes of alternating solid colours, or intarsia of square in different sizes to create mosaic effect.

A 'Birdy' inspiration featuring a selection of fashion-forward designs inclusive of embroidery, feather and beading. A black tone collection included mid-length coats, long vests with flaring skirting, and ankle-length coat jazzed up by ruffle detail provokes a strikingly cool yet sophisticated mood.

With the theme 'The Tender Galaxy', this selection of glamourous sable and mink creation mimics the twinkling star in the galaxy. Under the spotlight are long coats, capes and jackets in various versions of short, medium and long length, characterized by crystal embellishments.

Under the theme 'New Structure', this series of modern designs in cocoon and body-hugging shapes experiment volume, irregular patterns, asymmetric silhouette and geometric details. The new structure enhances movement, as well as proposing an ambience of elegance and femininity. Mink, fox and swakara in natural colour is used side by side with a palette of greys and blues.

Retro stylings of the 70s and 80s in this mink collection are rejuvenated by modern colours of pearl, violet and grey. Easy-to-wear designs featuring coats, jackets and cape-sleeve coat in fit-and-flare silhouette employ let-out techniques in solid colour or alternating contrasting colours which further accentuates the feminine flair of the selection.

Entitled 'Le Queen Marie' the collection of coats and hooded vests in flaring silhouette emits an air of elegance. Dark grey fox are used on collars, cuffs and borders as contrast to white and light grey mink ensembles, while dark grey mink juxtaposed with black swakara epitomise textural interest.

Under the theme 'Texture of Lines', this luxurious collection is inspired by modern architecture. Sable pelts are arranged horizontally and diagonally to accentuate the feminine silhouette. In a selection of designs ranging from short jackets to long coats, simple cut and minimal styling are used to highlight the high quality of sable and create an aesthetically-pleasing harmony.

A modern menswear collection characterised by glossy black leather and studs as well as in playful shades and classic patterns made in intarsia technique,. Highlight of the collection encompass sheared mink quilted coats with inlay motif and swakara sleeves; zip-front turtle-neck full mink jacket jazzed up by stripy pattern in midnight blue, white, smoky violet and black, and classy double-breasted jacket with lapel accented by stones.

A playful and luxurious collection exploring shades ranging from wine red to light rose, and dark green to light blue, all put together to create graphic patterns on coats and matching scarves. Mink floral motifs blossom on turtle-neck poncho or on long black organdie skirt, while stark contrast of black and red mink and lamb suede in wavy pattern on chic waistcoat and ankle-length coat draw instant attention.

A youthful and energetic mink collection comprising high-waist flaring long coats featuring white, grey, beige, light blue and fuchsia colored mink arranged in patchwork effect; long waistcoat and belted poncho interplaying colour-contrast in light-ray pattern; and lively bolero worn with long culottes with big patch pockets.

Inspired by the Italian opera 'The Turandot', this collection exemplifies the opulence of an empire. A range of long dress, capes, jackets and reversible coats with meticulous, colourful paisley painting and crystal embellishment on the leather side of mink enabling designs wearable on both sides. The fine workmanship of mink intarsia, in combination with swakara and silver fox fur, further enriched styling detail and textural interest.
Photo Gallery
Hong Kong Fur Factory Ltd.

International Fur Co. Ltd.

Season Trading Co. Ltd.

Blue Angel Fur Co. Ltd.

D S K Furs Ltd.

Ace Fur Manufacturing Ltd.

Lanca Fur Trading Co. Ltd.

Cadano Fur & Fashion Co. Ltd.

East Link Fur Ltd.

Precious Fur Trading Co.

Ocean Fur Co. Ltd.

Regal Fur & Fashion Co. Ltd.

Dai-Ichi Madam Fur Ltd.

Broadway Fur & Fashion Ltd.

S.F. Fashion Co. Ltd.